Obama in Independence, MO: photos
by Michael Bersin, Tue Jul 01, 2008 at 07:38:13 AM EDT
Crossposted from Show Me Progress.
As I approached the press entrance to the Truman Memorial Building I stopped to take a photo of the media trucks. This very nice lady stopped and asked me, "Are you with the Kansas City Star?" I replied that I was not, I was a blogger. She then asked me, "Would you like to take my picture with my husband he's just around the corner?" I thought, "Why not?" and told her I would. As we walked back to the line of people around the corner I asked her if she had ever been to an event like this before. She replied, "No, never before. This is historic." We found her husband in line and I took this photo. They reminded me of my parents.
I waited my turn to go through security at the press entrance. The uniformed officer had me take out and start up all of my electronic equipment, including my camera. As he peered through the viewfinder he took this photo. He quipped to me, "If you publish this I should get credit." He's got it.
Congressman Ike Skelton and Congressman Emanuel Cleaver II in front of the press area as we all waited for Obama to arrive.
Jackson County Executive Mike Sanders in front of the press area. Ike Skelton, Emanuel Cleaver and Mike Sanders are delegates to the DNC who publicly supported Hillary Clinton's candidacy.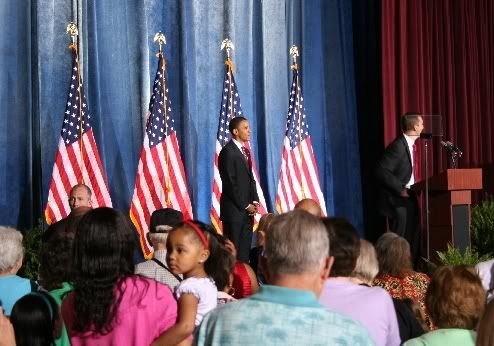 The little girl in the foreground was fascinated by the press table and the crowd behind her.
The "blue ticket" area in front of the press riser.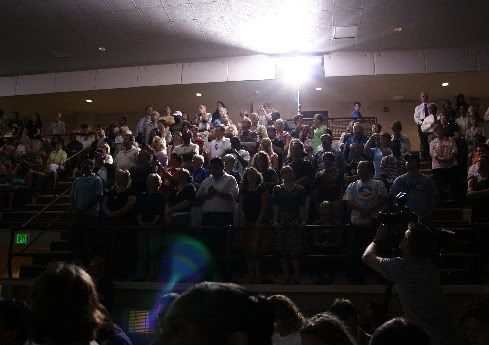 The "red ticket" area behind the press.
The lighting in the hall was quite good until they discovered that the overhead lights were causing glare on the teleprompter. The electrician was told to turn out the overhead lights (before Obama arrived). A credentialed video photographer in the balconey went ballistic because of the low light. I alternated between slow shutter speeds without flash and flash with varying degrees of success.
A credentialed member of the press shows me an I-phone photo taken at the rope line shortly after Obama finished his speech.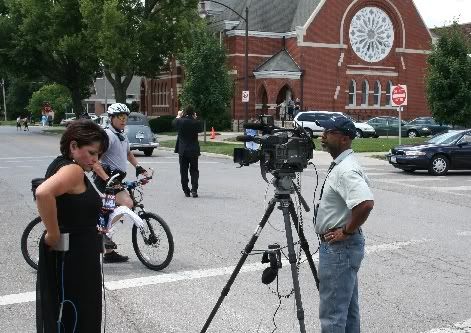 A local television reporter prepares for a "stand up" outside the hall as the crowd exited the hall.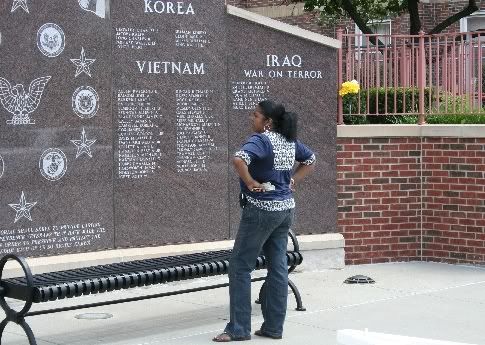 This individual stood alone studying the memorial after she had left the hall.
Tags: independence, Missouri, obama (all tags)