by Maryscott OConnor, Thu Sep 04, 2008 at 09:15:06 AM EDT


Crossposted fromMY LEFT WING


This Is the Face of the Republican Party: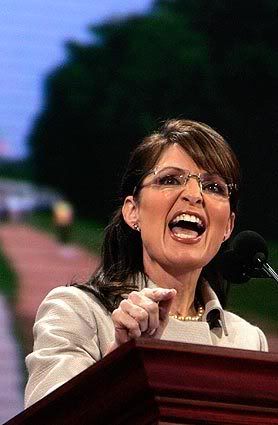 For the last few days, the same group of indistinguishable sweaty white people who gathered in New York in 2004 -- and plastered purple bandaids on themselves to mock the military service of John Kerry and the wounds that merited his three Purple Heart medals -- have spent their time in St. Paul at their 2008 convention alternately worshipping their own war hero (who languished, lamentably, tortured in a POW camp, while Kerry fought in that war, earning those Purple Hearts in combat) -- and jeering the candidacy and accomplishments of Barack Obama and his millions of Democratic followers.
On the face of it, the Grand Old Party looks to be having a good old time in St. Paul. A grand old party, in fact. Laughter, after all, is the best medicine, right? Sure is... And god knows, we're all in need of some sort of a cure.
But the contrast between the two political conventions held this summer could not be more stark, and while there will always be a substantial segment of the population ready to fall for the re-constituted manure these folks have packaged and are handing out in their pitifully tiny venue in St. Paul -- their medicine won't work. Laughing at someone is never as powerful as laughing with someone. And we all know it.