by Maryscott OConnor, Fri Sep 19, 2008 at 06:43:02 AM EDT

Crossposted fromMY LEFT WING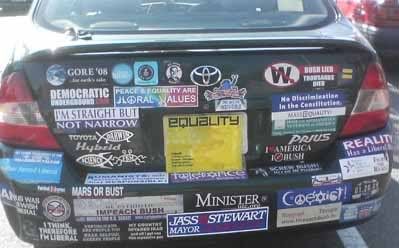 Over the past several years I've become convinced that the ways we classify political beliefs and ideologies (or perhaps the very definitions themselves) are in dire need of revamping. For instance...
What's a "conservative?" Used to be there was a standard reply to that query, one that included the paeans to "small government, low taxes, laissez-faire" portraits of the federal government. Nowadays, however, when I think of a "conservative," I think of a bizarre hybrid, a "free trader" crossed with a would-be Puritan, whose ideal federal government micromanages the individual's private affairs, but still uses a hands-off approach in dealing with corporatism...
The same could be said of "Republican" -- is there a shorthand descriptor of a Republican today? Aside from the fact that people like me use it as a one-size-fits-all epithet, I cannot think of anything that remains of the old definitions of Republicanism. Certainly there are, as there have always been, different subsets among the whole -- but if you had to distill its essence, how would you describe a "Republican?"
And how about a "Democrat?" What does a Democrat stand for? Is there a quick sound bite that aptly summarises what it means to be a Democrat? ("Not a Republican" seems to be it, nowadays.) How about a "liberal?"
Here are some of the definitions of "liberal" that I'm happy to claim: