by Manic Lawyer, Wed Jul 02, 2008 at 10:54:49 AM EDT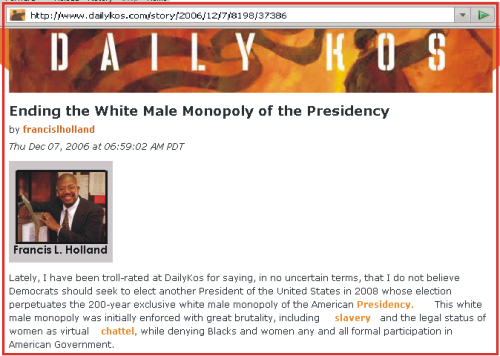 [Author's Note:] Cross-posted at the AfroSpear'sPamsHouseBlend (credentialed blogger to the Democratic National Convention, and at the AfroSpear's African American Political Pundit.Com, (also credentialed blogger to the Democratic National Convention), and at the Francis L. Holland Blog. (Francis L. Holland is co-editor of AfroSpear in the News, which links to over one hundred articles about the AfroSpear and its members in the mainstream media over the last year, averaging approximately one article every four days.
This is what I said at DailyKos, just before I was banned there:

I define "white male supremacy": as "the belief that white males, no matter how much and how often they fail, are still, by virtue of their male gender and white skin, inherently more qualified than blacks and women who succeed." -- Francis L. Holland, December 13, 2006 at DailyKos.
Everything about this election in 2008, shows that I was correct: Barack Obama runs not just against a man, John McCain, but also and much more importantly, against the white male supremacy paradigm. Barack Obama has to show NOT ONLY that he will be a better president than John McCain, but also and more importantly, that John McCain is not inherently superior to Obama by virtue of John McCain's white skin.
It ought not be hard to demonstrate that the Party that prefers to end an expensive and futile war that is wildly unpopular is preferable to the party that proposes to continue that war indefinitely. It ought not be hard to convince the public that the party whose current president has a 29% approval rating ought not be selected to perpetuate the policies of that same lousy-ass president.
And polls show that when adding undecided voters to the McCain column, (as might arguably happen in November) the race is actually a dead heat.
Why? Because in addition to having a Black candidate at the helm, the Democratic Party has become known to Americans as the party of Black people, simply because 90% of Blacks vote in November for Democrats, while only 10% of Black vote for Republicans, and Democrats necessarily have to be more responsive to Blacks than Republicans are. There is nothing that the Democrats can do about this in the short term, since without Black voters the Democrats would be an electoral nullity.
On the other hand 50% - 60% of whites vote for Republicans, based as much on the color of the party - all-white - as based on the politics of the party. This explains why, even as the Republicans tank in virtually every meaningful respect, Barack Obama still requires a campaign strategy at all.
Certainly, the Republicans promise different economic strategies from the Democrats - strategies which benefit one percent of the populous at the expense of everyone else. But the important part of Republicans' promises is that they promise to do nothing at all for Black people, which is what many white people are fixated upon, above all else. They vote for Republicans because they want to vote against Black people.
National health care would help all Americans, but it would help Black people more, because our health is worse and our present access to health care is worse. For many white people, denying Black people health care alone is a sufficient reason to oppose national health care.
Additional funding for school lunches, daycare and college tuition would help all Americans, but they would help Blacks more, because Blacks are economically more stressed and relatively more desperate for these kinds of middle-class supportts. For many whites, that alone is sufficient reason to oppose these programs.