2008 Obama Electoral Map
by Lord Hadrian, Tue May 13, 2008 at 09:48:11 PM EDT
One of the main talking points of either campaign is the election maps. In fact, Senator Clinton recently took several versions of potential 2008 outcomes to the Capitol to discuss with undecided superdelegates.
The main thrust of her argument, as well as many who support her, is that 2008 will not differer from the 2000 or 2004 General Elections; that once again, the election will come down to battleground states: Ohio or Florida, or both.
I'm here to basically say this is one of the weakest arguments and will probably not result in any traction with superdelegates.
First off, let's discuss the 2000 General Election, pitting sitting Vice President Al Gore versus Governor George W. Bush.
There's a plethora of reasons often espoused by the mainstream media as to why Al Gore lost - some of them are credible. The reality that Governor Jeb Bush had a stranglehold on the process and even if a recount favored Vice President Gore, he'd have likely had it thrown out. That the butterfly ballots cost the election; that hanging chads favored him; that dimples favored him.
That Ralph Nader cost us the election.
But there's one glaring issue that cost Al Gore the election. Any of those issues aforementioned are second to Al Gore in costing Al Gore in the election.
The 2000 elections utilized the 1990 census to determine electoral votes and therefore, New York was still a more Electorally rich state, and Texas was less - but more importantly, Al Gore had 266 Electoral Votes.
Two-hundred and sixty-six electoral votes.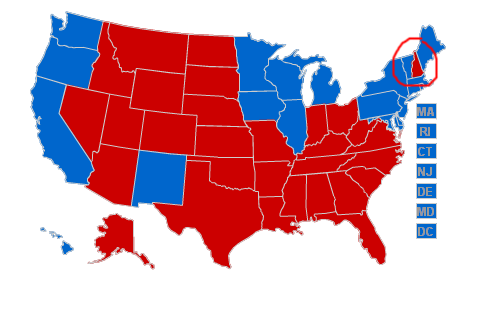 Most aren't aware of the very simple reality of the 2000 election. That a state where the election was decided by less than 1% and which recently switched to the Democrats, decided the election with its 4 Electoral Votes.
Why?
Because not only did President Bush lose the primary there, it was apart of a demographic that would have favored Vice President Gore if he spent enough resources there.
So when you discuss the 2000 elections with your friends next time - bring up the reality that with 266 Electoral Votes, the Democrats failed to carry New Hampshire and it's 4 Electoral Votes.
2004 was different however - the 2000 Census was now in effect; Texas was now the second most electorally-rich state, New York had been knocked, Arizona had gained a few EVs and the landscape favored the Republicans.
This is evidenced by what was a much shorter election night and a relatively quick defeat against a President whose approval rating was below 50%.
Bush: 286 Electoral Votes
Kerry: 252 Electoral Votes
Again - blame assigned to relatively stupid reasons. High turnout due to abortion and gay marriage initiatives being on the ballot; swift-boating; stealing the election.
Ad nauseum.
Again - this is not a failure of MESSAGE. It's a failure of whose receiving it. Appalachia has been turned off by the Democratic Message because it has began to include things they don't approve of - environmentalism which might cost them jobs and revenue, suffrage for homosexuals that run counter to their beliefs.

These maps show the amount of attention given by the campaigns to the close states. At left, each waving hand represents a visit from a presidential or vice-presidential candidate during the final five weeks. At right, each dollar sign represents one million dollars spent on TV advertising by the campaigns during the same time period.
Again, inordinate amount of time spent in Ohio and Florida for nothing.
States that weren't motivated to vote Senator Kerry and which were dead-ends electorally, given attention.
President Bush also engaged in SMART election policy - he campaigned in New Jersey, much to the amusement of Democrats but he did something that our party failed to do as well: force us to play defense in states we deemed "safe".
If all you do as a party is challenge battleground states while the other party is making inroads in states you consider safe, you're going to fail.
That's why Howard Dean has been brilliant; his strategy to attack the Purple West has been the highlight of his tenure and his move to have the convention in Denver is especially appropriate.
Moving further:
California, 55
Washington, 11
Oregon, 7
Minnesota, 10
Wisconsin, 10
Michigan, 17
Illinois, 21
Hawaii, 4
Pennsylvania, 21
New York, 31
Massachusetts, 12
Connecticut, 7
Maine, 4
Vermont, 3
Rhode Island, 4
Maryland, 12
District of Colombia, 3
Delaware, 3
New Jersey, 15
These are states with their electoral votes next to them. That's what we have to work with. These are the safe states that will not trend red in a general election where the Republican brand is at 27% nationally.
I have excluded New Hampshire, as it's shown favoritism to McCain on a level that could lead to an uspet of either Senator Obama or Senator Clinton.
That's 248 Electoral Votes. The Democratic Nominee will have 248 electoral votes to work with.
Now the obvious point will be to go for the two heavy-hitters - Florida and Ohio.
Florida has trended Republican and while both Senators Clinton and Obama can put it into play, it is absolutely necessary to look elsewhere.
Both Senators Obama and Clinton are polling well in Ohio at the moment and so that would leave the need to pick up 2 Electoral Votes - but I'm not even going there.
The 2008 Election Map for Senator Obama will be the following, according to the polls and the demographics that favor him:
That means:
He retains the 2000 Electoral College map of Al Gore's, ditches New Hampshire of 2004 and carries the following states:
New Mexico, 5
Iowa, 7
Colorado, 9
Nevada, 5
That's 26 Electoral Votes that weren't had in 2004. Now you're wondering how he crosses the 270 threshold.
Well. He already did. That's 274 Electoral Votes.
We gave up Florida. We don't have to win Ohio, Indiana, the bellweather of Missouri or even Virginia.
We have to win states that are on the cusp of turning Democratic in the GE, currently poll well for Senator Obama, show him consistently beating Senator McCain and which play well into our convention theme.
Now Senator Clinton would be a very great +1 Candidate; and so would Senator Obama. But it's not his strength. To further show this: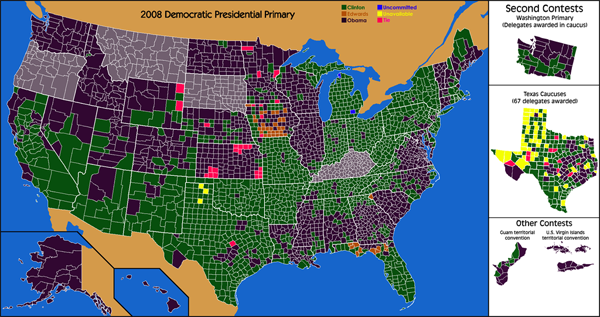 That's how the counties have gone so far. As you can see, Senator Clinton's strengths have been consistent: Rust Belt, Appalachia, her home state and the nearby New England area. Senator Obama's strengths have been the Purple West, the midwest, his homestate and the swingstates of Minnesota and Wisconsin.
So let's put to bed this notion that Senator Obama can't win in November. Let's put to bed this insane idea that the only path by which to win the Presidency is through Ohio, Florida or both.
If the Democrats never expand the map, they'll continue to come up short because their demographics are switching. Arizona is trending blue and would be in play in any other cycle; Nevada, New Mexico and Colorado are ready and with the help of our governors in Montana along with conservative Democratic Senators, the entire West awaits a candidate willing.
This is not to say Senator Clinton isn't unelectable - she's electable.
But so is Senator Obama. And both could win the +1 state strategy.
It's just this is a realignment election, and with our wins in special elections, the time for to invest money, manpower and time into "Republican safeholds" has never been better.
[editor's note, by Lord Hadrian]
Just some additional information:
538.com -- the site I use to keep up to date with *accurate* polling, which weights and correctly predicts contests, including tonight's and last weeks.
Opinion Journal ECC -- this is the coolest election calculator I've come across. It's easy to switch the states and play with. It uses the 2000 Census, so while it does show elections going all the way back to 1980, their electoral vote totals are incorrect as the states are given 2000 weights. But still awesome.
Tags: President 2008 (all tags)