Obama Didn't Want My Money!
by FOB92, Wed Apr 09, 2008 at 03:14:52 PM EDT
Cross-posted for http://borell.dailykos.com/
I just had the strangest experience. A presidential candidate gave me back my donation, told me he would not accept it because of what I do for a living, and it left me more committeed to the candidate and conviced that he is the person that must be the next president.
I went to the mailbox and found a letter from the Obama Campaign. Enclosed was a check for $100, the return of my contribution from earlier this month along with a letter explaining why it would not be accepted.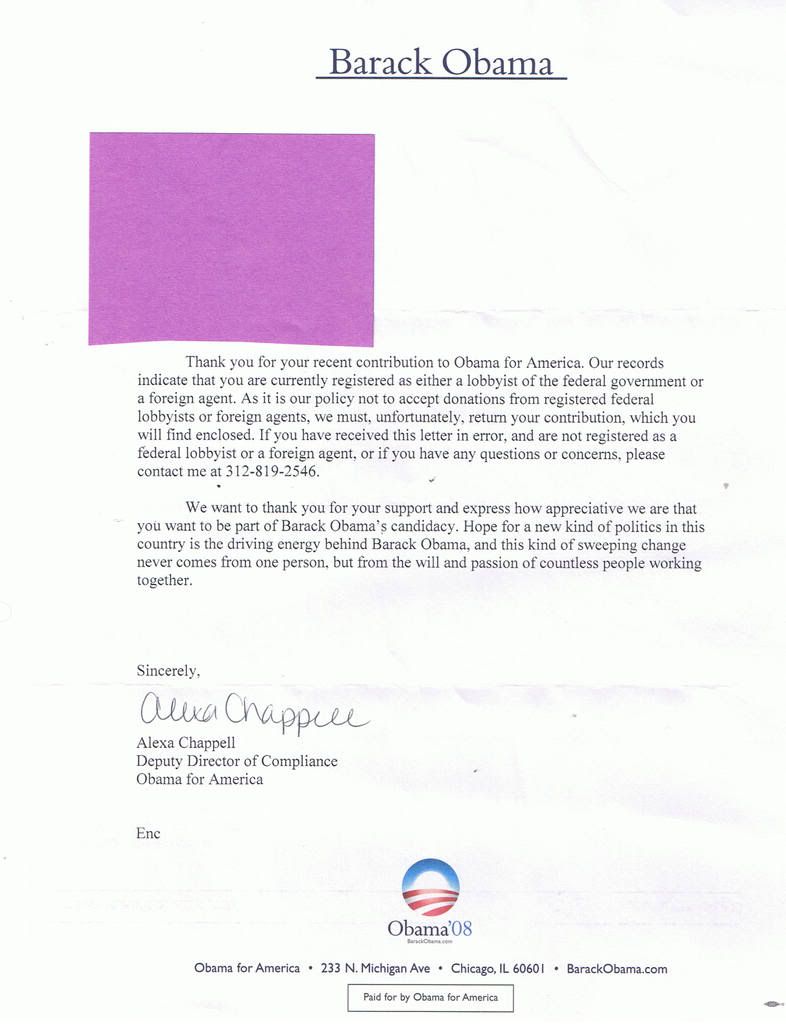 You see, I am a registered lobbyist for a non-profit organziation. We are a non-partisan, non-political membership organziation, we do not have a political action committee and strictly observe a policy of non-particpation in any event that even remotely appears political. I serve as their legislative rep, trying to ensure that expertise of our membership is heard by public officials on issues related to their area of expertise (public safety).
I guess given the fact that I was not a corporate/industry lobbyist, I never really considered that Obama's no-lobbyist money ban would apply to me, but it did! The letter thanked me for my interest in the campaign, but stated flately that my donation was not acceptable.
It's not often you get told that you are persona non grata and end up praising the person who exiled you. But that's what I am doing. Obama actions are living up to his words. Through the actions of his campaign he is demonstrating that his values are real and his commitment is certain.
Another aspect that is quite impressive to me is that the Obama campaign has a mechnism set up to check each donation, even one as small as mine, against the lobbyist database, and then return it.
If I ever doubted the sincerity of the Obama Campaign, this action removed any questions.
I know my donation is not going to make a difference one way or another, and I hope that I am not the type of "corrupt lobbyist" that has infested washington.
Obama, and his campaign, are committed to bringing about change. They are doing this in both large and small steps. Refusing my money is a small step, but it spoke volumes to me. It showed me Obama means what he says and backs it up with action. It shows me that no detail is to small and that his organization is top notch. It strengthened my commitment to see him elected President.
I guess I just can't use my money to do it:).
p.s.: As a side note, last year my spouse had set up automatic monthly payments to Hillary (nothing big $10/month) but after switching to Obama, had to battle with the Clinton campaign to cancel the automatic payment. I find it ironic that one campaign won't take my money, the other won't give it back!
I though we had finally stopped the payments to the Clinton Campaign, but after checking with my spouse, it turns out they are still taking the payments 3-4 months after we asked them to stop.
Tags: campaign finance, lobbyist, obama, Recommended (all tags)