Our soldiers in Iraq and Afghanistan
by fairleft2, Wed Nov 11, 2009 at 08:25:18 AM EST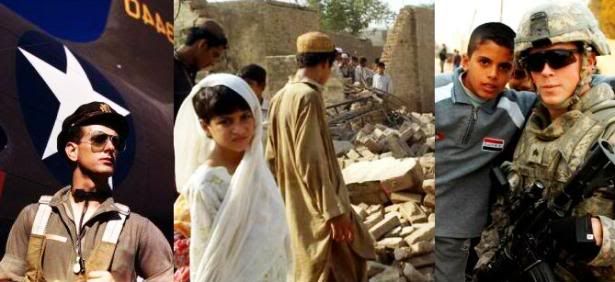 Our soldiers in Iraq and Afghanistan are war criminals. This can be a difficult thing to deal with if you are a soldier (but of course it's even harder on the victims of the criminality), but knowing and then acting on the truth is how otherwise moral men and women will get themselves right. Seeking forgiveness from the victims (as is now common among Vietnam veterans) might be part of some sort of absolution too, I don't know.
Unfortunately, many if not most on the left, in deluded 'solidarity' or strategic thinking that is neither, don't want to state the plain fact of what the Iraq and Afghanistan wars and occupations -- and their shoot first get garbled translations later standard operating procedures -- makes our soldiers. How do we get them to wake up and stop doing what they're doing, by lying to them and putting all the blame on the policymakers and superior officers? Leftists and pseudos have been discussing all this at Lenin's Tomb, where my most recent comment is the following:
I want soldiers who are war criminals to be aware of that fact. One of the main reasons is because a lot of the time when they know that truth they refuse to fight (or refuse to enlist if they get aware before joining the military). The 'our poor naive soldiers' rap is fine (although their life typically is better materially than the lives of similarly situated guys/gals who chose not to enlist and are employed in minimum wage jobs without much of a future), but not at the expense of the truth.

Our soldiers in Iraq and Afghanistan in fact are often amenable to the awful truth, they already mostly know the truth in a not fully coherent way, and many believe confronting the truth is part of the cathartic process for 'getting through/over' the psychological pain caused by the guilt for what they have done to many Iraqis and Afghans. The antiwar left just needs to fully inform them and perhaps provide an overarching narrative.

I personally would forgive anyone who goes AWOL once they become fully aware of what they are actually doing, but that's just me. For example, I'm not sure whether the relatives of Afghan or Iraqi civilian victims would want to do the same. Their right to justice for the killing of their compatriots in an illegal war is also something to weigh.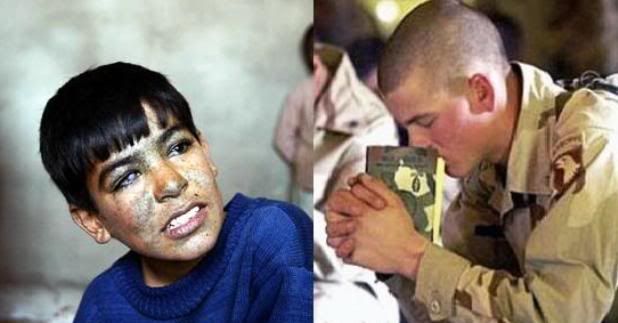 As we all more or less know, perhaps even the working and middle class high school students who are the primary targets of military recruiting, aggressive war is illegal and immoral. Uninvited invasion and occupation of sovereign states is illegal and immoral. The restrictions on belligerent occupations are severe and it is standard operating procedure for U.S. soldiers to violate them against the opposing army, POWs, and civilians in Iraq and Afghanistan.
By the way, how similar is the following, written in March, 2004 by Stephen Zunes about President Bush's rationale for the Iraq invasion, to President Obama's justification for our war of occupation against Afghanistan?
President Bush now declares that a successful American-led pacification of the anti-occupation resistance in Iraq would be an "essential victory in the war on terror." In linking the legitimate international struggle against al Qaeda with the illegitimate U.S. occupation of Iraq, it becomes possible for the administration to justify the president's determination to "spend what is necessary" in controlling this oil-rich country and to depict those in the United States and elsewhere who oppose the occupation as being soft of terrorism. . . .

There appears to be no evidence, however, that those Iraqis currently fighting U.S. occupation forces in their own country actually want to somehow sneak into the United States to kill American civilians. Indeed, no Iraqis have ever been known to commit an act of terrorism against Americans on American soil.
BTW 2, to the many honorable veterans, particularly of WW II, I salute you on Veterans Day.
Tags: Afghanistan, Iraq, U.S. soldiers, war criminality (all tags)