Obama's Afghan War: kill Pashtuns, destroy their villages, leave
by fairleft, Wed Feb 04, 2009 at 11:20:46 AM EST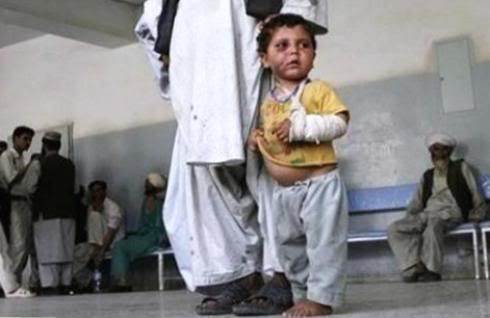 Afghan child wounded by U.S. airstrike on Zerkoaf, Afghanistan.
Barack Obama has always been a business as usual, don't rock the boat kind of politician, and it's gotten him very far very fast. But who will feel the bruntiest brunt of Obama's business as usual politics? I nominate the Pashtun people of Afghanistan and Pakistan (there was heavy overseas competition for the nomination, but 'average Americans' (despite Obama's doomed to fail 'flood the financial sector with money and everything will be fine' economic policy) bring up the rear, just behind dope-smoking hippies (except for Obama, Phelps, Clinton, and Bush)).
So, hey, let's get to know a little bit about our latest victims. (Some of the following is courtesy of Wikipedia and the rest is from memory and other places). 13 million Pashtuns live in Afghanistan, and they are its largest ethnic group (42% of the population); they also have been Afghanistan's dominant ethnic group, basically until the U.S. showed up in 2002. They have been the main supporters of the Taliban, who came to power in Afghanistan after the U.S. used it to help oust the Soviets from the country and then forgot about Afghanistan, leaving it to warlords so evil they made the Taliban look like sweethearts. The U.S.'s President of Kabul, Hamid Karzai, is Pashtun, but most of Afghanistan (not under Taliban control) is left to the brutal, chaotic mess of warlords that the Taliban ousted a decade and a half ago. Here's a map of the regional distribution of the Pashtun ethnic group: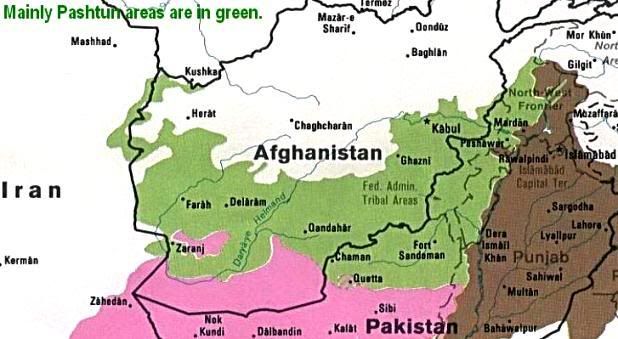 There are also 28 million Pashtuns in Pakistan. Most live in the northwest provinces near the Afghanistan border; they constitute Pakistan's second largest ethnic group and make up about a quarter of its military.
Ultimately, we ain't gonna to defeat the Pashtun. What we are doing, and what we will continue to do under Obama and as long as conventional wisdom holds out, is kill a lot of them, kill a lot of their children, destroy a lot of their villages, and make them even poorer and their lives even more chaotic and desperate than they already are. Yup. That's why we fight. American commanders and soldiers can smell what the deal is, the Pashtun know it's just a matter of time and dead Americans, so they kill some of us and patiently wait. Three or thirty more years, whatever it takes.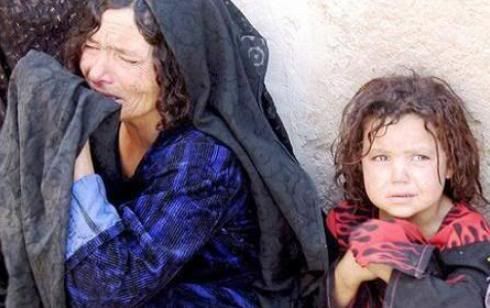 Shendand, Afghanistan, August 2008: woman mourns after U.S. airstrike.
Dave Lindorff describes Obama's shift of imperial focus to Afghanistan as "moving from the absurd to the ludicrous." Afghanistan after all, he writes, is a nation with no air force and barely an army. He continues:
Most of its people are illiterate and live in rural areas. Its people are extremely poor--among the poorest in the world. . . .

Do we really believe that this desperately poor and war-torn nation poses an existential threat--or any threat at all--to the US?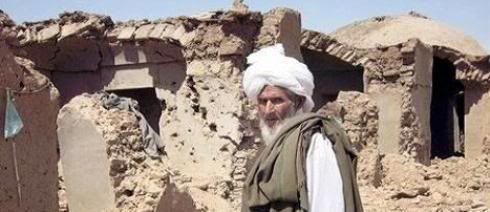 Shendand, Afghanistan, August 2008: man walking among rubble caused by U.S.
Well, the conventional wisdom is, yes we do. Yup. And so, what is President Obama doing about that?Well, the January civilian-killing in Afghanistan numbers are out:
Simple arithmetic reveals that the eleven days [of January] under the Obama clock were 18-50% more deadly for Afghan civilians than the twenty days under the Bush regime. -- Marc Herold
Or read Courage to Resist:
Despite the recent inauguration of an "anti-war" president, the Army is currently undertaking the largest IRR [Individual Ready Reserve] recall since 2004. [IRR, sometimes called the Inactive Ready Reserve, is composed of former military who have returned to civilian status but have 'inactive' time left on their enlistment agreements; they are still eligible to be called up in "states of emergency"] . . .

The current emergency that allows the Army and Marines to recall IRR members is the open-ended "Global War on Terror" that includes the occupation of both Iraq and Afghanistan. . . .
Or watch this:

Afghan civilians have rallied against America amid reports that civilians were killed in a US air raid over the weekend. The US military says 15 fighters were killed in Laghman province, but the provincial governor says at least 10 civilians were among the dead. -- Al Jazeera
There's a reason things are going badly for the U.S. occupation of Afghanistan. That reason is simple: the U.S. will lose to the Pashtun, which is increasingly identical to a mutating 'Taliban'. Does Obama realize this? I don't know, and I'm not sure it matters. Like most of our political elite, he got to where he is by toeing the line and going along with whatever the most powerful constituencies in Washington (or Chicago, or Springfield) want. Right now in Washington that's the military-industrial complex.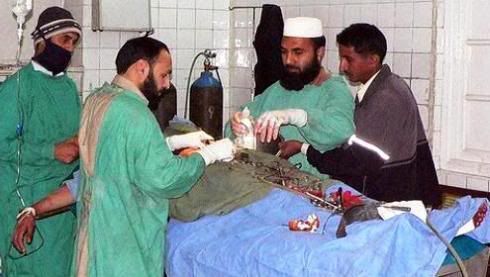 January 23, 2009. Obama's first victims: surgery conducted on Pakistani victim of U.S. drone airstrike. The airstrike killed 15, including at least 7 civilians.
Lindorff adds:
Let's get it straight. No Afghan has ever, to my knowledge, harmed the United States. . . .

For eight years, America has been attacking and destroying a country that is about as dangerous a threat to America as is Mali, or Haiti, or the Comoros Islands. If Obama follows through and doubles the number of troops fighting over there, it will just make this whole policy twice as stupid.
Eight years "attacking and destroying a country." And wait, there's more. Even less effort to compensate for the attacking and destroying, and more attacking and destroying in Pakistan:
A classified Pentagon report urges President Barack Obama to shift U.S. military strategy in Afghanistan, de-emphasizing democracy-building and concentrating more on targeting Taliban and al-Qaida sanctuaries inside Pakistan with the aid of Pakistani military forces.
Not pretty. And what are we doing about this, American couch potatoes?
Nothing. Continuing to believe in the Obama public relations phenomenon. Throwing up our hands, giving up. The big 'anti-war' groups, as usual, still make their main priority helping the Democratic Party gain and hold onto power. Even the UN's Ban Ki-moon seems to be complicit. . . . Okay, as expected. Well, at least little Kyrgyzstan is saying 'screw you' to the Afghanistan/Pakistan death machine.

Donate to Courage to Resist.
Tags: Afghanistan, obama, Pashtun (all tags)