Hillary Clinton as First Lady
by bowiegeek, Sun Dec 23, 2007 at 08:46:25 PM EST
Preface
"This position is such an odd one," the First Lady said. "In our country we expect so much from the woman who is married to the President--but we don't really know what it is we expect." The only way for a First Lady to "escape the politics of one's time," Hillary said, is "to totally withdraw and perhaps put a bag over your head, or somehow make it clear that you have no opinions and no ideas about anything--and never express them, publicly or privately." The audience cheered, egging her on, and Hillary became even more combative and self-revelatory. "There is something about the position itself which raises in Americans' minds concerns about hidden power, about influence behind the scenes, about unaccountability. Yet if you try to be public about your concerns and your interests, then that is equally criticized. I think the answer is to just be who you are and do what you can do and get through it--and wait for a First Man to hold the position." - Time's coverage of Hillary Clinton's remarks at a gathering in Sydney, Australia in 1996.
"The Supreme Court"
Let me start by throwing out what many people know about why Al Gore would never endorse Hillary Clinton or why if he did, there would be a collective gasp around the country from Democrats who know some of what went on the White House during the nineties. Hillary Clinton took on an unprecedented role in the White House as what aides called "The Supreme Court" from her desk in the East Wing, overseeing initiatives undertook by the executive branch that she had a particular interest in and thereby impinging on the relationship that Vice Presidents typically had with the President. Indeed, her involvement brought about a problem that no White House had ever faced because the First Lady, barring Eleanor Roosevelt and Rosalynn Carter, had never been so adamant or passionate about everyday politics.
The Clintons were a team; they valued each other's advice. Bill ultimately decided what went on during his presidency. But there is ample anecdotal evidence from insiders that suggest that she was behind several actions the White House took during the Clinton Administration. A rivalry developed between Al and Hillary for the President's ear: Bill's best colleague and his other half. Things got testy at times. And Al Gore was stoic in what had to be a frustration at the kind of situation that had developed; they're rather cordial today, however, as evidenced somewhat by her session with Al when he testified before the Senate Environmental Committee. I've come to the conclusion having seen many of Hillary's speeches with references to the 90s that they struck an unofficial bargain that she would lay off his specialties like technology and environmental issues and instead focus on issues related to human rights, families, and children.
Initiatives and Advocacy
First Lady Hillary Clinton co-founded with Madeline Albright in 1997 the global women's rights and developmental group Vital Voices.

In 1998 Vital Voices, under Hillary's leadership brought together 400 women in Belfast, Northern Ireland to foster their rise to prominence and leadership and to ensure that their success helps to translate into peace in Northern Ireland.
Wives. Mothers. Sisters. Daughters. Few were household names. But, having seen their lives and communities torn apart by violence, women came together as women have always done-around kitchen tables, at the market, in gatherings like this. It was women whose whispers of "enough" became a torrent of voices that could no longer be ignored. If we listen carefully, their voices still echo through this room and lift up ours today.

If we listen, we can hear the voices of women who withstood jeers and threats, prejudice and violence to make themselves heard in a political world once reserved primarily for men. We can hear the voices of women in Craigavon, who, instead of burrowing into their sorrow...used the power of the pen to heal by writing and sharing their poetry, short stories, essays, and plays. In one poem, Madge Steele writes about finding common ground:

Weave the threads of real friendship with the colors of your life, / Use the pattern of Peace and leave out the strife, / Thread the friends that are young along with the old, / And you'll find on your loom a fabric of Gold.
Hillary Clinton's contribution to the peace process in Northern Ireland has long been acknowledged by Northern Ireland's leadership, which, this month in its official visit to the White House, made a special stop to visit with Hillary Clinton, as she has kept in touch with her friends abroad.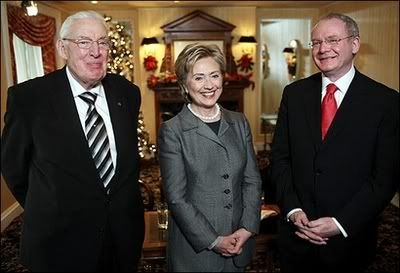 I mean it guys, this is real foreign policy experience. She was honored by a national Irish-American association for her work. Watch this hysterical video of Kathy Griffin stalking Hillary at the event. You won't regret it.
Continuing today ten years later with Clinton still as and Honorary Chair along with many bi-partisan and distinguished advocates, VV has:
- secured millions of dollars toward initiatives fighting human trafficking in Asia, Latin America and Africa.

... among other things.
First Lady Hillary Clinton worked with Attorney General Janet Reno in 1995 to form the Justice Department's Office on Violence Against Women.
Hillary Clinton delivered a stunning and direct criticism at the 4th World Conference on Women in Beijing in 1995 that specifically called out China's abuses among others.
As First Lady, she also co-founded the National Campaign to Prevent Teen and Unplanned Pregnancies, which has continued to expand in its advocacy role even under a hostile administration, securing funding from private groups and celebrities.
Helped to found the public-private initiative Saving America's Treasures in conjunction with the National Parks Service. She continues on as the founding Chair of the organization, which has secured restoration funds for The Mount in Massachusetts (historic home of Edith Wharton), the African Meeting House (site of where abolitionists including Frederick Douglass and William Lloyd Garrison formed the Anti-Slavery Society and published its newspaper The Liberator), Harriet Tubman's residence in Auburn, NY, and many others during her tenure as First Lady.
First Lady Hillary Clinton pushed for an extensive investigation of Gulf War Syndrome which was thought to have been caused by Agent Orange and which hastened the path toward treatment for veterans of the first Iraq war.
Hillary Clinton publicly highlighted (from 1994 onward) the successes of microcredit and the possibilities of applying the lessons learned in Bangladesh and Niger, at home and abroad. She traveled to Jordan in 1999 and convened a conference with Queen Rania Abdullah to publicly highlight the United States' $10 million's worth of microcredit investments and its future possibilities, She worked in conjunction with USAID to convene a world summit on girls' education at which she gave the keynote address. She garnered $2 million worth of funding for USAID to fight diarrheal and respiratory illnesses affecting children in Latin America.

Veto Power
Harvard professor and author of The Two Income Trap Elizabeth Warren, in an interview with Frontline that I and many others saw 3 years ago, attempted to villify HRC for a contrast between her actions in 1998 as first lady and her actions in 2005 as senator. She rightly pointed out that Hillary Clinton killed the Bankruptcy Reform Act of 1999 introduced by Chuck Grassley and co-sponsored by our old friend Joe Biden.
Sen. Clinton, when she was first lady, [was] responsible for stopping the proposed bankruptcy legislation. The White House had been quietly supporting it, and it was First Lady Clinton who talked with her husband and persuaded him that the bankruptcy bill was hard on women, hard on families, hard on older Americans, and was a bad idea in general. And the last act that President Clinton took with Congress was to veto the bankruptcy bill. Mrs. Clinton took credit for that in her autobiography, and by golly, she deserves it.
[Later Warren went on to criticize Hillary the senator for voting for the new bankruptcy bill in 2001 sponsored by good-old experienced and straight-talker Joe Biden. She said she voted for that version (which didn't pass) because it she said in had the necessary protections for women that she was looking for: for example, protecting women who filed bankruptcy but still depended on the income they received child support. In 2005 when the issue came up again, Clinton voted for every consumer protection amendment proposed by Chris Dodd and others, voted against cloture for the bill, but was not there for the vote citing family needs when Bill Clinton underwent his emergency bypass surgery the same day.]
Legislative Efforts
State Children's Health Insurance Program

I'll skip this one because her involvment is already well-documented, and most are familiar with its effect.
The Adoption and Safe Families Act brought about the most significant update in adoption law and federal programs in 17 years.
Carole Shauffer, executive director of the Youth Law Center, an advocacy group based in San Francisco, recalled that Mrs. Clinton's staff requested that she organize an event where the first lady could talk about the adoption measure. ''She was very knowledgeable about the issues, including background that you wouldn't get from just reading the bill,'' Ms. Shauffer said. ''I have no question that this was a personal issue for her.''

The measure began with rare bipartisan support, but became fractious over two issues: when and how to terminate birth parents' rights to their children, and how much to spend on programs that prevent children from entering foster care. Some Democrats insisted on additional spending, said a child welfare agency head who was active in lobbying for the measure. Mrs. Clinton, said the official, helped persuade Republicans and Democrats to compromise. A Democratic aide involved in those talks recalled that Mrs. Clinton was vital in renewing negotiations after they broke down. (source)
The Foster Care Independence Act increased federal funds aimed at foster children who age out of state foster care programs some time between 18 and 21 years old.
Shay Bilchik, executive director of the Child Welfare League of America, recalled that it was Mrs. Clinton who organized a conference on youth issues and lobbied on behalf of the measure. ''That was really the first lady's staff that worked that issue,'' recalled Mr. Bilchik, who worked in the Justice Department's office of juvenile justice and delinquency prevention at the time. (source)
Kind of a Conclusion
This has been a small sampling of some of the things I think people should know about Hillary among other things when they choose whether or not to accept or even entertain the caricatures that have arisen over the years. Maybe what's provocative about her, ironically so because she can be so outwardly austere, is that she never asked permission to do what it is she does. She never got permission to be the most powerful First Lady in the history of the United States (as Michael Beschloss put it). She never asked if it was okay if she took issue with the goings on in Washington. She never paused to ask if maybe she shouldn't be a politician. She just went ahead and did it because she'd decided that that's what she wanted to do to make a difference.
Going back to the article from Time that I quoted in the beginning, there's a portrait of her that Eric Pooley paints that I think evokes something interesting and revealing about the former First Lady in 1996:
Very often in public she is smiling but remote, her eyes concealed by dark sunglasses. Even when she is having fun, as she clearly was last week, there is an unmistakable sadness to her, a pensive, fragile air that reflects four bruising years in Washington and the bone-deep weariness that campaigning brings. She speaks of seeking a new balance in her life. "That's what I try to do every single day," she said, settling back into the leather seat of a limousine idling on the tarmac at the Sydney airport. "I hold my hands out and try to put one foot in front of the other. I'm big on balance."
Tags: advocacy, Al Gore, Barack Obama, Bill Clinton, Chris Dodd, Clinton Administration, first lady, foreign policy, Hillary Clinton, joe biden, John Edwards, jordan, leadership, microcredit, Northern Ireland, policy, Politics, Ted Kennedy, USAID, white house (all tags)