by Inoljt, Mon Oct 05, 2009 at 07:51:58 PM EDT
By: Inoljt, http://thepolitikalblog.wordpress.com/
The New York Times posted a very interesting map of Afghanistan's recent election.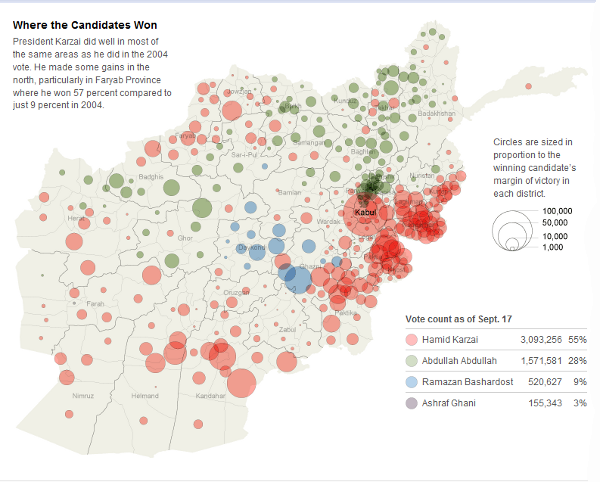 Before continuing, I must note that my purpose is not to question whether irregularities or fraud might have denied Abdullah Abdullah victory; I am simply analyzing the data as it appears.
There's a lot of data here, and interpreting it is fairly difficult; few people know much about Afghan politics and demographics. This map indicates the margins each candidate won. Kabul is the big red circle. In total, Karzai won 55% of the vote, essentially doubling the vote of the second-closest candidate.
Compared to a similar maps of U.S. elections, several things stand out. The first is the extent to which polarization is apparent. Afghani society is very clan-based, and elections can reveal polarization like nothing else.
At the point most politicians win an election by more than 20%, maps like the one above tend to consist of something like below: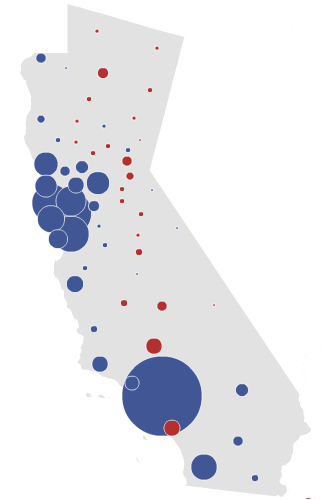 This is Barack Obama's 24.03% landslide in California. Compare it to Karzai's 27% victory: one might be forgiven for concluding that out of the two elections, Karzai did worse.
(Many) more maps below the fold.