by twinmom, Sat Sep 20, 2008 at 06:38:29 AM EDT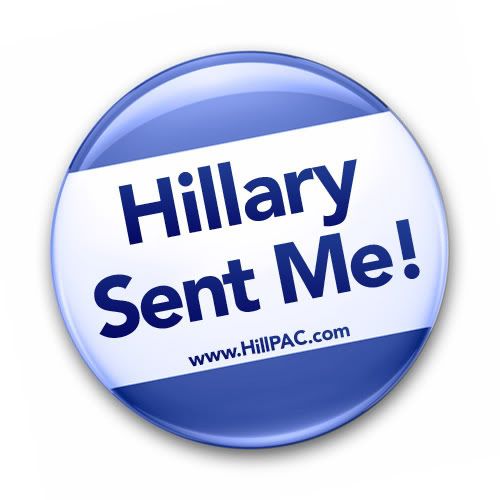 I think this is a terrific idea. Sorry for the cut-and-paste diary... just wanted to get the word out.

http://www.huffingtonpost.com/2008/09/19 /clinton-unveils-new-pro-o_n_127852.html

Hillary Rodham Clinton stepped up her efforts Friday to swing her supporters behind Democratic presidential candidate Barack Obama, her former rival for the nomination.

In an outreach dubbed "Hillary Sent Me," the New York senator invited her primary-season partisans to get involved directly in Obama's campaign and to donate to it. As part of that, she urged them to travel to a specific battleground state each weekend, beginning with New Hampshire on Sept. 27, when she will be campaigning for Obama in Michigan.

"Today I am asking all of you to stand up with me, to hit the road and spread the word that we must elect Barack Obama president and send a Democratic, filibuster-proof majority to Congress," Clinton told supporters in a conference call Friday. "This is a call to action, a must-do. We all have a role. And there is not a moment to lose."

Starting Saturday, Clinton's political Web site will offer backers information about Democratic campaign events and grassroots efforts.

Clinton said the outreach "continues the historic journey that you have made with me."

"I like to tell people this is a twofer," said former New Hampshire Gov. Jeanne Shaheen, who is challenging Republican John Sununu for his Senate seat in that state and also took part in the call. "You can come up. You work in the presidential race, you can work in the Senate race."

The effort was organized with the Obama campaign and state Democratic parties nationwide. Its goal: to engage the former first lady's donors and voters - many of whom are still sore over her loss to Obama in the epic primary contest - to put that firmly behind them and help in battleground states.

The New York senator has already campaigned for Obama in Ohio, Florida, Nevada and New Mexico and raised more than $5 million for his campaign. "Hillary Sent Me" is her first explicit pitch to her grass roots supporters to get involved, Clinton aides said.

Here's the info from HillPAC:


http://www.hillpac.com/feature/hsm/

Hillary Sent Me! is a volunteer grassroots program designed especially for you!

As Hillary campaigned across America, her grassroots supporters, dedicated travelers, and volunteers were critical to her historic accomplishments.

The stakes in this year's historic election could not be higher. We cannot afford to let the McCain/Palin ticket and the Republicans continue squandering the promise of our country and the hopes of our people.

The Hillary Sent Me! program will mobilize Hillary's supporters around the country to work on behalf of this year's critical races, help send Barack Obama and Joe Biden to the White House, and get America back on track.

Now is the time to pack up the car and travel to battleground states because we must help ensure victory in November! Hillary is already on the road for the Obama-Biden ticket and Democrats across the country. If you haven't yet, it's time to stand up, hit the road and spread the word. There is not a moment to lose!

We are going to be focusing on key battleground states including New Hampshire, Pennsylvania, Michigan, Ohio, Virginia, Nevada and more to help Democrats this fall.

Sign up today to be part of our Hillary Sent Me! program, and find out about how you can get involved in a state near you!
SIGN UP FOR A WEEKEND TODAY!

September 26-28, 2008: Head to New Hampshire for the Obama-Biden ticket, U.S. Senate candidate Jeanne Shaheen and all of the great Democrats running there, or you can head to Michigan where Hillary will be campaigning for the Obama-Biden ticket!

October 12-13, 2008: Head to Pennsylvania, where you can join Hillary who will be campaigning for the Obama-Biden ticket! Great Democrats from PA need your help including Congressman Paul Kanjorski from Hillary's hometown of Scranton; Congressman Chris Carney; Congressman Joe Sestak; Congresswoman Allyson Schwartz and many more!

November 4, 2008: Election Day - Stay Tuned!

More dates coming soon...

Pro-Clinton blogger Taylor Marsh was on the conference call yesterday, here is her post at HuffPo...
http://www.huffingtonpost.com/taylor-mar sh/breaking-clinton-announce_b_127850.ht ml