by fairleft2, Mon Oct 12, 2009 at 11:09:58 AM EDT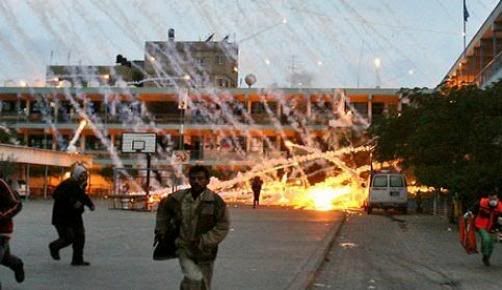 January 17, 2009, Israeli airstrike on UN school in Gaza
Always good when popular pressure forces a politician to do the right thing. In this case, the right thing is to discuss and act on the Goldstone report, which detailed possible Israeli and Hamas war crimes during Israel's invasion of Gaza last December and January. West Bank president Mahmoud Abbas reversed an earlier stance (purchased by the U.S.) to delay action, and now supports getting the report discussed on Wednesday by the Security Council and then referred to the UN Human Rights Council:
Criticism forces Abbas to harden stance
October 12, 2009
Michael Jansensus

. . . Many Palestinians were outraged when [Abbas] shook hands with Mr Netanyahu at an encounter arranged by US president Barack Obama on the sidelines of opening of the UN General Assembly.

Mr Abbas had said that he would not meet or negotiate with Mr Netanyahu until he agreed to freeze all Israeli settlement activity in the West Bank and East Jerusalem.

Under US political and financial pressure, Mr Abbas capitulated to what a Palestinian observer called a "$200 million handshake,"referring to the amount the US pledged for PA budgetary support by the end of the year.

Outrage became fury when the PA agreed to postpone endorsement by the UN Human Rights Council of a report on crimes committed during Israel's war on Gaza earlier this year.

Palestinian economy minister Bassem Khoury resigned in protest, other PA figures called the decision a mistake, and Palestinians staged a rally in Ramallah. . . .

. . . In an attempt to limit damage over the Goldstone report, Mr Abbas instructed the PA delegation in Geneva and the Palestinian observer at UN to press for an early discussion in either the Human Rights Council or the Security Council of the 575-page document, which provides evidence of Israeli and, to a lesser extent, Hamas war crimes.

Fearing involvement of the International Criminal Court, Israel has threatened to pull out of US-brokered talks if the Goldstone report is endorsed and its recommendations are adopted.
Though it won't be as effective as human rights activists wish, especially not in the U.S., displaying Israeli immorality and criminality to the world is still the most promising path for international resistance to take. At least it gets real results (a series of diplomatic and popular blows against Israel are listed in "Israel-Turkey relations hit new low"), and the real results would mount if Israel continues on its present path. In addition, campaigning for basic human rights in Palestine and against war criminality on both sides is so obviously right and fair-minded that even members of the Israeli home team are swayed (see British UN ambassador in article below). Maybe even more so when the main argument against justice is 'you/they did it too':