by Bob Brigham, Thu Jul 19, 2007 at 08:37:57 PM EDT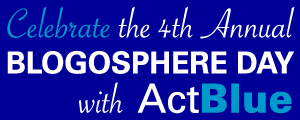 Late in the evening of October 23, 2004, I coined the term Blogosphere Day. At the time, I was directing the online campaign in PA-08 for Ginny Schrader (D-Blogosphere) and was trying to do anything possible to hype her campaign. Little did I know what would become of a two minute entry on dkosopedia.
To be perfectly honest, I'd forgotten about it until it showed up in the National Journal just as Tim Tagaris and I were plotting on when to kick of the online fundraising for Paul Hackett. The rest, as they say, is history.
Today, there has already been $16,395 raised online for ActBlue. Yet if every US Senator who has applauded the event were to max out, that number would triple.
A couple of other thoughts on the tradition and on teamwork...