You'd think, graphs included
by Jerome Armstrong, Wed Mar 26, 2008 at 09:02:46 AM EDT
Seeing something like this, from Gallup (Results are based on telephone interviews with 6,657 national Democratic voters, aged 18 and older, conducted March 7-22, 2008):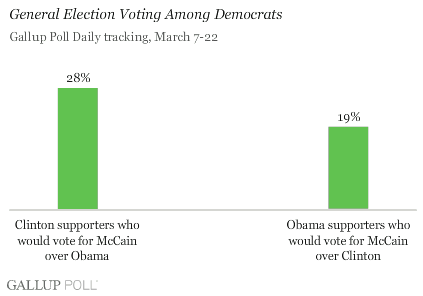 ... you would think that Obama supporters, and his campaign, confident as they are that it's 90% sewed up and in the bag, that they'd stop to think a bit about not alienating the Clinton voters that they'd need to win over McCain, wouldn't you?


The Republican activists, now that they've engaged in the Democratic nomination, can be counted on to be an equal opportunity basher, allied on either side as the ebb and flow of the new scyles happens, piling on both candidates.
A couple other graphs to show how closely divided this is, from Gallup: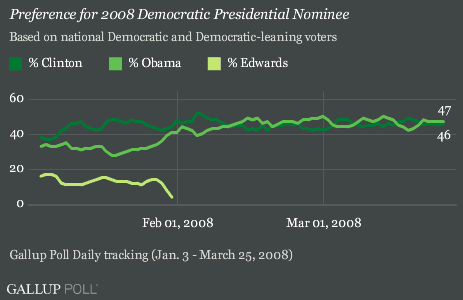 And Pollster has a terrific "Plus or Minus 3" entry, where this comes from, the Rasmussen & Google daily tracking numbers:

This tie in the polls won't last through the nomination, one or the other will win, but the divide might last beyond.
Also, from Rasmussen, 22% of Democrats want Clinton to drop out, 22% of Democrats want Obama to drop out. I'm glad to be in the majority 56% saying to let this continue. I'll vote for the Democrat against McCain, but for that 44 percent, this will have to get resolved in a manner that both sides feel is legitimate if the hardcore supporters of the other candidate are to be expected to help out in November.
Tags: 2008 election (all tags)