Your Money and Your Votes
by MacWilliams Kirchner Sanders, Tue May 15, 2007 at 09:17:01 AM EDT
For most of the last 30 years, the conventional wisdom in political campaigns - at least at the federal level - was to spend most of the advertising budget on broadcast television. It may have made sense when broadcast TV was the dominant medium, but it doesn't make sense today.
The past decade has brought an explosion in new ways to communicate with voters that, combined with new technologies, has made it possible to reach specific, narrowly targeted voting segments. While online ads, mobile communication, and social network organizing all should be considered as part of a campaign's communication planning, one of the biggest shortcomings of Democrats and progressives (as described in yesterday's post) is their failure to take advantage of cable television's microtargeting potential.
A couple facts: In 2002, for the first time, a bigger share of the TV audience was watching on cable than on broadcast. In 2006, 56% were watching on cable and just 44% on broadcast TV.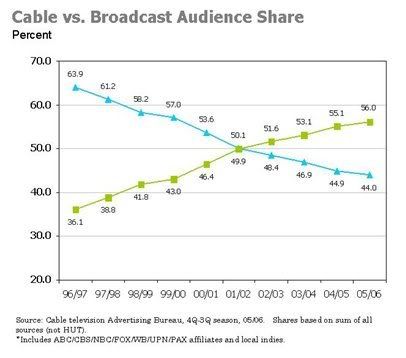 So why do so many political consultants continue to recommend that candidates dump most of their communications dollars into broadcast TV?
More after the jump.
The chart above shows that, in 2006, political campaigns of all stripes put 92% of their television ad dollars into broadcast TV ($1.6 billion) and just 8% into cable ($144 million). That simply makes no sense when 56% of the audience is watching on cable.
Campaigns and consultants spend a lot of time trying to find the right message. And they spend a lot of time working on the creative to take that message and package it in an ad that motivates voters to support their candidates and causes.
But for all the time and energy that goes into both the message and the creative, in many cases it seems that little time or effort goes into figuring out how to deliver them in the most effective way possible. And any campaign that isn't taking advantage of new tools and technologies, including cable, to deliver its message and creative to the right audiences is wasting an awful lot of time and money.
It is important to recognize at the outset that buying cable in a way that takes advantage of its microtargeting potential is not simple or easy. It is much harder, for example, than just buying news and some prime time programming on broadcast TV. With cable there can be 3, 5 or more separate cable systems that reach a particular Congressional District. Sometimes those cable systems overlap one another. In order to make a smart, cost-effective buy, it's essential to figure out which systems reach the neighborhoods where the candidate's target voters live, as well as which cable networks, and which specific programs on those networks, are being watched by the targeted voters.
The Analysis
Our analysis examined cable buys made by independent expenditure organizations supporting Democratic candidates in 2006. The study looked at three of the most competitive Congressional races in the country: Iowa-01 (Bruce Braley v. Mike Whalen), Kentucky-03 (John Yarmouth v. Anne Northrup), and Ohio-15 (Mary Jo Kilroy v. Deborah Pryce).
The methodology was straightforward. First, we went to cable systems in each of those markets and got the actual cable buys that were placed by the Democratic organizations. Then we matched their buys with cable system data for the programming in those markets - what was available, how much it would cost for the spots, etc. - and calculated the total spent per week. We assumed, for purposes of the analysis, that their buying firms were paid a commission of 2.5%. (Many Democratic media consultants outsource their buys to firms that charge 2% - 3%).
Finally, we put together cable buys that were optimized to take advantage of cable's geographic and demographic targeting potential. For purposes of this analysis, we assumed a commission of 10% (the standard media commission is 15%). We analyzed and compared the two buys using several metrics, including Total Cost and Gross Ratings Points.
The results: They weren't only wasting lots of money, they were wasting a lot of it on the wrong voters.
The Results
The data presented below for the three Congressional Districts has been aggregated for the sake of simplicity.
In the three Congressional races combined, the Democratic groups spent roughly $166,000 per week on cable television ads. For their money, they got 1,671 Gross Rating Points (GRPs) which averages roughly 209 GRPs per week on each cable system purchased. (Gross Rating Points (GRPs) are a basic benchmark used to measure the impact of television or radio advertising.)
In Ohio-15 and Kentucky-03, the groups bought the Interconnect, which is a collection of local cable systems in each media market that join together for the purpose of selling ads over a wider part of their respective markets. In Iowa-01, there is no Interconnect, so the ads were purchased on five cable systems that reach different parts of the Congressional District.
After analyzing the Democratic organizations' buys, we put together cable buys that matched their GRP levels in each of the three markets. By optimizing the cable buys, they could have bought the same number of GRPs (1,671) for just $78,000: a savings of $88,000.
Even assuming a higher commission, they would have gotten the same number of points for less than half the cost.
But it's not just the money that was wasted. The 1,671 GRPs that they bought (across the three Congressional Districts) is well below the level that would have been needed to make sure their message was getting through - especially in such hotly-contested races late in an election year.
We typically recommend buying between 250-350 GRPs on each cable system, though many factors affect that calculus (e.g. program availability, creative content, and other reinforcing or competing activities in the media market). For reasons that will be discussed in tomorrow's post, it would have made more sense to buy only the local cable systems that reach Ohio-15 and Kentucky-03 rather than the entire Interconnect. On the 12 local cable systems that reach all 3 CDs, an optimized buy would require about 3,000 GRPs per week (roughly 275 GRPs per system compared to the average 209 GRPs per system purchased by the Democratic groups).
With an optimized buy, they could have gotten 3,012 GRPs per week at a cost of just over $114,000. That's nearly twice the GRPs at a savings of $52,000 per week (even after factoring in a 10% commission). Over five weeks, a quarter-million dollars would have been saved.
Most importantly, it's a buy that takes advantage of cable's geographic and demographic targeting capability.
Tomorrow: more details about these buys and how they could be done better.
Tags: advertising, Cable, Media, Media Buying, television (all tags)